Zambia's topnotch female rapper, Bombshell has been in album mode for the longest time and believe me-you, we are only a few days away from experiencing the much anticipated debut album "Mfumu Kadzi" which means Female King.
Well, Bombshell is definitely a female king and she has done a good job in proving her king status through her previously released efforts, which can be found on the Zambian Music Blog website.
So, the album release date has been pushed from Dec. to 7th Jan 2022 via a heroic statement written by the projects executive producer ANTHONY NKWAZI on which he details the hard work and commitment from all the creatives involved to make sure the project comes to life.
"Making music is hard. But when you've got an amazing team willing and ready to make a dream come to reality it becomes worth it. To have been behind this project as it's executive from its inception and to go through what I've experienced in making every song, every concept and to help breathe life into it i can truly say it has been a road worth taking. To every producer, artist and the whole Nexus team, from Bernard, to Patra to Bernice to Golden, Killa, Eazy the Producer my guy YxUNG BxSS and CEO Mr Ngulube, I'm eternally grateful for your cooperation and your support. I can say from the bottom of my heart that this project won't be forgotten, Bombshell worked so hard through all the pain and every tear and broke through every barrier placed before her to make this project come to life, and the maturity in her now will be felt by all of you as you listen, this is a culmination of her year of greatness. I can't wait to show you what we've done. Do More, Talk Less #MFUMUKADZI 🐆"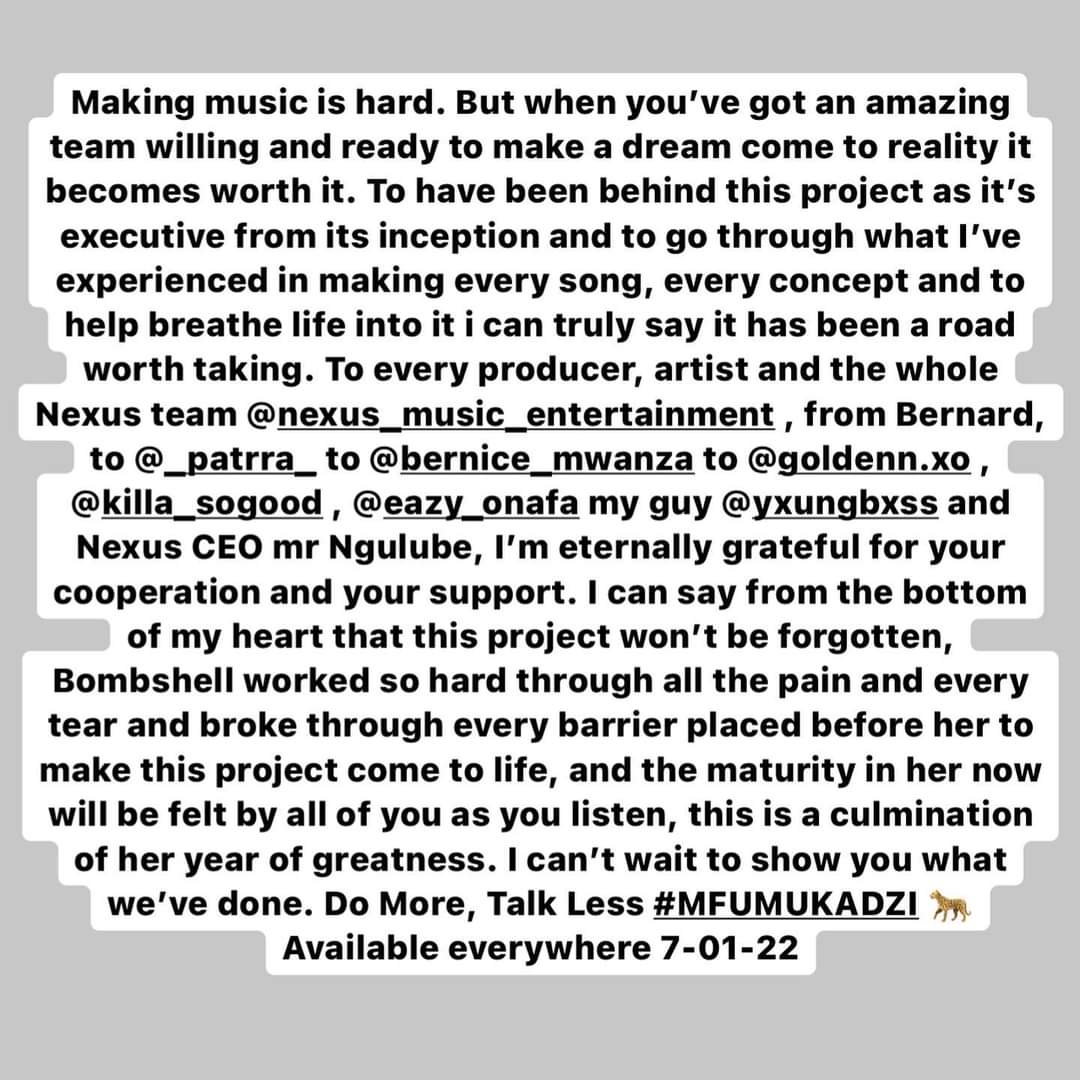 The project was scheduled to drop in Dec 2021 as a birthday special because of the month being the rapper's birth month – She made this confirmation in October during a radio interview with Dj Pressure aka Pmc.
The Album which is her first project under Nexus Music Entertainment management consists of 19 records with a bonus track, an international collaboration with Nigerian singer Skales and features from a number of Zambia's amazing artists such as Sebastien Dutch, Tiefour, Slapdee, Jorzi, Mampi, Xaven, Afunika, Nez Long, Abel Chungu Musuka among others while the production boasts with skills from Magician, Eazytheproducer, Dj Mzenga Man, Kid Xoldier, J-Hun, Focus Beats and Yxung Bxss who also takes credit for the mixing and mastering of the entire LP. For a full list of credits check the album back cover below.
MfumuKadzi album will be available on all digital music selling and streaming platforms worldwide. Don't Miss the Date!