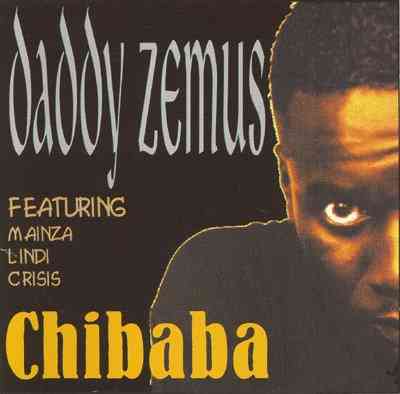 Daddy Zemus: The real king of Zam Ragga. Many Zambian dance-hall or ragga artists have claimed to be kings of this genre of music on the local scene without paying homage to the greatest that ever did: Daddy Zemus.
Zemus's larger than life persona made a him a cross between Shabba Ranks and Shine Head. Little is known about this amazing pioneer who paved for many Zambian singers but one thing stands out,he will always be remembered as a serious entertainer who's music not only made people dance, but also spoke for the voiceless in society.
Daddy Zemus' ragga style – with elements of R&B and hip hop – established him as the King of Zambian ragga. His eight-track album Chibaba (featuring the likes of Crisis, Lindi and Mainza) was Mondo Music's third release and was the last time the world heard from Zambia's King of Zam-ragga. It hit the store shelves on Christmas Eve 1999 and went on to stay top of the Sounds Top 20 Chart until April.
Chibaba received massive air-play and was a favorite among dance floors, homes and would go on to transform the complexion of local music in later years, thus setting the tempo for the Zambian music renaissance long after Zemus had passed. In keeping with Daddy Zemus' trademark, this was a social commentary album. The classic hits on this album include "Anyamataa, Juju Lover, Fatness, and of course the title track Chibaba.
His ragga style is indeed hip, and the album is full of phat, laid back grooves.
Anthony Kafunya, popularly known as Daddy Zemus died on 3rd June 2001 after an illnes. Kafunya, 32, is survived by a wife and two children.
He was behind the introduction of popular Zamragga, the localised version of the internationally recognised ragga and won wide recognition from his Chibaba album. National Arts Council chairman Mumba Kapumpa expressed shock at Kafunya's death saying it was a serious blow to the music industry.
Rest In Peace Daddy Zemus…… Your Music Lives On….
Watch out for the "Daddy Zemus Chibaba" Full Album Download…
Happy Easter Holiday !!!! ZMB affiliates!!!