Recently Facebook has been wilding we have seen people getting exposed to mention a few, but today the big boss (DJ Mzemga Man) has fired shots to new rappers (Mostly New Wave artists) who spit about Guns, Power, Money, Expensive saying….
''If you are a rapper rapping about guns, money and power at least don't ask for free beats.''
This statement by BamuZe his simply advising Young coming up artists not to rap about things they don't have such as  expensive Cars, Money and Power..
See post below!!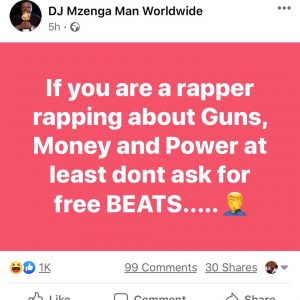 In Zambia  being a trap artist it's not easy reason being you are obtaining the European art  hence Zambian believes in the Kalindula music/Zed touch fused records,  so it will be hard for an upcoming artist to make them believe in you while rapping bout things you ain't Got
DJ MZENGA MAN SPEARKS.
LEARN FROM THIS TO PUT ZAMBIA ON THE MAP