THE Kwacha surged against the dollar in swing trading, to end four consecutive weeks of decline against the foreign currency.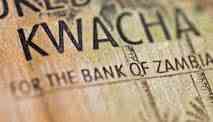 The local currency was overall bullish on the day with large upward moves characterizing activity on the day.
The currency was spurred on in the day by both inter-bank and corporate dollar selling with buyers coming in at intra-day lows of K 6.45/K6.47.
The Kwacha by close of market was trading at K 6.49 and K 6.51, up 2 ngwee on the day and is likely to keep a bullish momentum in the short term trading between.
The source, understands that the local unit is expected to hold on to its gains with support continuing to come from local players in demand for the Kwacha.
Last month, the kwacha continued to come under pressure because of a low supply of dollars on the market, coupled with lower copper prices and a tax dispute with mines curbed foreign-exchange supply.
Source: Mwebantu New Media