In March this year, King Illest spark a conversation about Zambian Dj's and Zambian Music . He took to his Facebook to complain about how Zambian Dj's play amapiano all night and not Zambian music.
His post caused an uproar among Zambian music followers who include Zambian artists. Some artists supported his sentiments while others did not agree with him.
The Zambian artists vs Zambian Dj's debate became a hot topic on social media for a week or two . King Illest was of the view that , Zambians fell in love with amapiano because they saw South Africans first embrace it . The South gang CEO further stated that playing music for people who don't recognize you makes you look primitive.
A few days ago Nasty C said he did not recognize some of the Zambian artists names that were given to him . This Nasty C respond triggered yet another social media tension.
The king of the South has once again bounced back on social media to remind Zambians who bashed him concerning his post about Zambian music and amapiano.
king Illest wrote, "just the other day i said y'all promote people who don't recognize you, does Nasty C prove that we need to play and support Zambian music?"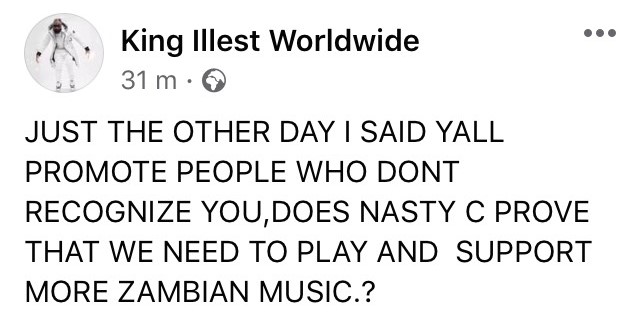 Featured Image: AKA (L), KING ILLLEST (R) Credit: King Illest/Facebook.