Zambia's foremost disc jockey Vjeezy has shared the official tracklist to his forthcoming debut body of work themed, "Fuego," an embodiment of 17 superb records, with over 30 features, and 10 prominent music producers. The upcoming project will be the first ever of its kind and will be the last one said the Vjeezy.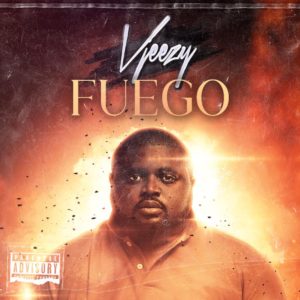 Eye-catching names on the tracklist such as Nigeria's top act Ice Prince and Skales, AY from Tanzania along side Zambia's top notch rappers Chef 187, T-Sean, Urban Hype, Dope-G, K'Chinga, Macky 2, SlapDee, Jay Rox and singing sensational Yo Maps and F-Jay. The source boss also tagged along super talented songbird Mampi and Cleo Ice Queen. The production of this Sophomore project was handled by top raking sound engineer of the likes of  Mr Stash, UpTown Beats, Reverb, MT, Cream Dollar and Magician just to mention but a few.
Fuego is a Spanish word which means "Fire" as well as "passion," among other uses. The English slang adoption of fuego perhaps started with a 2002 Malcolm in the Middle TV episode, "Cliques," which features a scene where Malcolm's friends express their attraction to female classmates by referring to them as "en fuego." Album drop on Thursday, the 15th of October 2020.
See Tracklist below!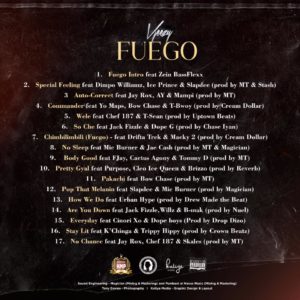 He also highlighted that he's excited to announce the album launch, this Thursday 15th October 2020 at Fox and Hound, Foxdale !! This is the first complete Album and is a cumulative result of a journey of his heart and soul through the Art of Music. This journey of self discovery of his passion, of my purpose and the entire reason of my being which is to spread love through music has taken me decades to fulfil.
See Post below!