Zambian female singer, Shadaya has expressed her disappointment with the organizers of the Kwacha Music Awards and we can surely see that she's really not feeling it!
With her latest video "Bad Energy" doing well on international channels such as Sound City TV Nigeria, Shadaya has booed thrown a shade to the organizers of the award show as seen in the screen shot below: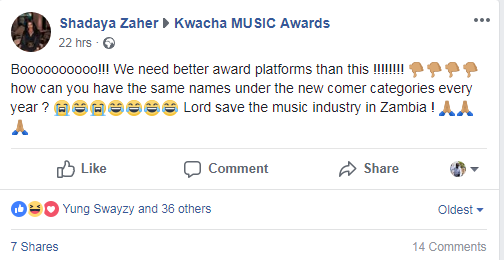 Shadaya has since written a statement on social media questioning why she wasn't nominated in these awards because she feels she puts in too much effort in her music for it not be recognized in her own country.
Read her statement below:
"Dear Kwacha MUSIC Awards and the people behind it! Don't you think I'm eligible to be part of your platform? First off, I work my ass off, I invest alot into my music and give the best I can! I've opened shows for international artists that not everyone has done AND, again, I work too hard to not be recognized in my own country !!! I think it's time y'all start acknowledging! I'm about to put zambia on the map!!! And when I do, dont come around with your bad energy ! This to everyone else putting in their best and haven't been nominated ! ✋?✋?✋? I'm seriously not happy ! ???? I'm tired of seeing the same names all the time ! Anyways! Whatevs! Gods plan ❤️???"
---
What's your thought on this?