After a period of precisely two years of not having the Vine Awards, we are safe to say that the Vine awards are back with the 3rd Edition to recognize influencers in entertainment, Media, Business, Family, Education, Leadership, and governance in Uganda and Africa.
Zambian well decorated gospel artist Pompi has been nominated for the African Act of the year at the Vine Awards 3rd Edition which will be held on 7th May,2022 at the Kampala Serena Hotel In Kampala, Uganda. Pompi has been nominated with other nominees like Judi Kay, Limoblaze, Marizu and Moji Shortbaba.
Check out the full list of nominees below.
African Act of the Year
Limoblaze
Pompi
Marizu
Moji Shortbaba
Judikay
Video fo the Year
Twalibadewa – Grace Nakimera
Give me love – Exodus & Levixone
Beautiful – Karungi
Answer – Dr. Suudi
New Artist of the Year
Karungi
Michelle Kyalisiima
Nil Empire
Roger Matt Baraka
Dj of the Year
DJ Pius
Urban DJ
DJ Victor 256
DJ Musa
DJ Easy Samuel
Artist of the Year
D Reign
Levixone
Sandra Suubi
Coopy Bly
Gabbie Ntaate
Spoken Word Act of the Year
Mutesi Patience
Wake
Juliet Namukasa
Markata Rhaimes
Comedian of the year
Emeka
Tr Suplhur
Benny MC
Uncle Mark
Dance Group of the year
DNA Dancers
Bravaz
Balokole Dance Government
Christ Legacy Dancers
Storm Riders
Album of the year
Action Talk – Coopy Bly
Anthems of Praise – Sandra Suubi
Unlocked – A New Dawn – Proclaim Music
The Sound of Revival – The Collective Ug
Book Impact of the Year
Out of the Crowd – Richard Mwebesa
Unhindered – Alex Mutagubya
Essential Practices for church Finances – Moses Mukisa
STOP – Listen to your Child think – Manuela Mulondo
Huperetes – The Heart of a Minister – Dr Dennis Sempebwa
Voting officially kicked off on 18th March 2022 and will close off on 8th April 2022. Vote here: https://vineentgroup.com/vote/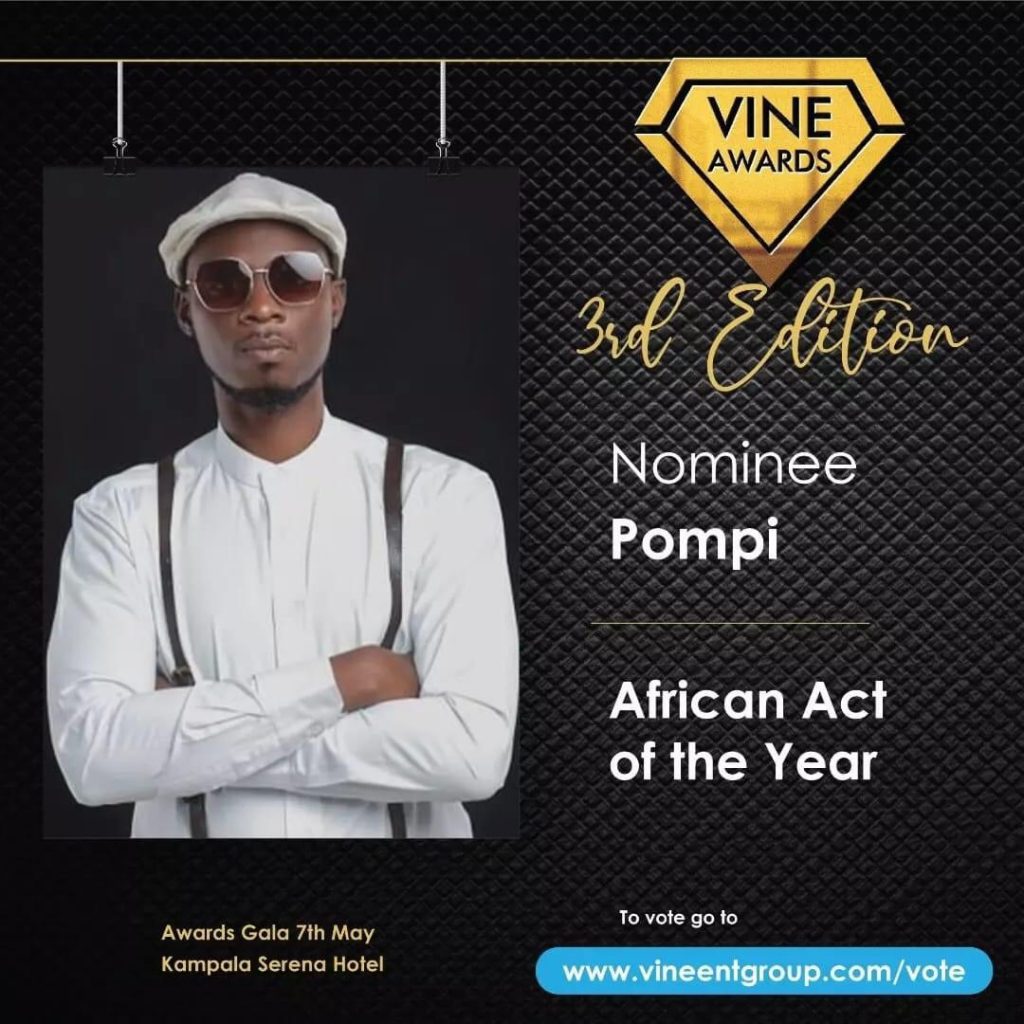 Pic Credit: Pompi, The Vine Awards, Facebook.