Following the release of her highly acclaimed 2016 debut "Mabungua" which had a  wondaful songs of the likes of  Paka Paka, Love Letter, Heartfelt Melodies and Hello Tomorrow just to mention but a few. Vocal powerhouse Esther Chungu reveals the album cover and track list for her forth coming sophomore project titled "April" which is set for release any time soon.
The upcoming body of work features special guest appearances from the like of Chef187, Pompi, Jedidiah Learning Steps Choir, Takie Ndou, Faith Musa, 412, Fishers Of Men and Christine.The new album "April" is packed with 13 impactful anointed, soul lifting songs, victory and thanksgiving to stir listeners up in worship to God. It was carefully put together as inspired by the Holy Spirit.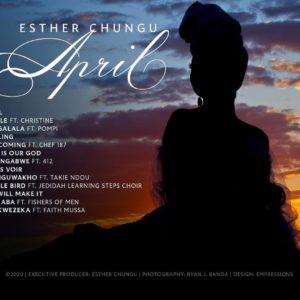 The amazing songstress Esther Chungu has continued to bless the world with amazing songs like Chikangabwe , It's Coming which are also part of the album. Pre-order the astonishing blissful project and when you listen to any of the tracks, people will see the manifestation of God in you and the name of JESUS will be praised.