Multi-award winning HipHop Royalty Slapdee after releasing many hit songs in the first half of 2020 he has come back with his much anticipated phenomenal album called "Mother Tongue." The new body of work is laced with 19 dope songs with notable features from vocal powerhouse Maureen Lianada, hip-hop icon Tommy D, Jay Rox, Sample The Great, Tim, Natasha Chansa, South African songstress Busiswa, sensational singing male hotspur Daev and other one which would go unnoticed was trac 15 which featured his son Zamani. .
With many awards and global recognition, King Dizzo has been soaring high, offering 3 critically acclaimed singles ahead of the album official release. The release of the rhythmic buzzing jam "Savuka" featuring South African songstress Busiswa, set the stage for the album. " Fwaka" featuring Money Kingdom top notch act Ruff Kid enticed fans as the gear up for the project and the uplifting "Dzuwa ," featuring sensational vocalist Jorzi, gave hope at the beginning of the world pandemic.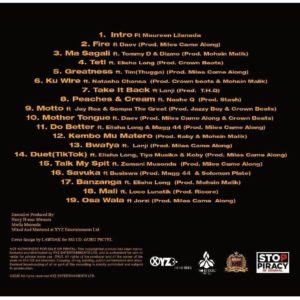 Rapping and singing in Bamba, Tonga, Nyanja and English, SlapDee prides himself on storytelling and embracing the Zambian tradition/culture that permeates music from that region and this is what has kept him relevant with audiences across the world and earned he so many accolades along the way.
All singles are currently topping music charts, buzzing on different digital playlists , television and radio stations across the world. The album is well enrich with great songs of different Afro music genres with gifted music producers of the likes of Mag44, Koby, Ricore, Jazzy Boy Mohsin Malik, Crown Beats, Solomom Plate, Mr Stash,THQ and Miles Came Along on most of the projects.
Buy and stream the album below here.