Zambian Gospel singer and songwriter whose music has garnered public support and streaming of her recent single "It's Coming which featured Chef187, Esther Chungu releases a debut album titled "April" This is a 13-track packed body of work which reveals God's purpose, His kingdom and His heart for His people.
Esther Chungu also features phenomenal Gospel artistes including Pompi, Jedidiah Learning Steps Choir, Takie Ndou, Faith Musa, 412, Fishers Of Men, Christine and hip-hop heavy weight Chef187.
"April" is not just an album for this season but for all seasons, which is full of Faith and inspiration message. The album is a reminder of the potency of God, a reminder that when He acts, nothing can stop it. Against the odds, outside the statistics, or not humanly possible, that's God's way of working; it's how He rolls. He works in the most impossible situations and says, "DONE!"
The project will  fill your spirit with a deep sense of glowreeyous wonder, bring color to illuminate your life us you listen to it.
See Tracklisting: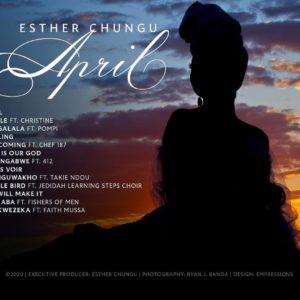 BUY THE APRIL Album Below.