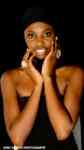 You have seen Mwangala from a couple of Macky 2's Music Videos; No More Love, So Beautiful e.t.c, this an exclusive interview I did with her…
Phil
*Hello Mwangala
Mwangala
"Hi…"
Phil
*How Are You This Evening?
Mwangala
"A lil' tired, but I'm well.."
Phil
*Okay Will Go Straight Into Questions
*Give me some basic information about yourself. Where are you from? Where do/did you go to high school/college? What are some of your main interests and hobbies?
Mwangala
"I'm from Kitwe, born & bred in kitwe…. I did my primary school at faith christian trust academy right in kitwe, I later went to LwitikilNa girls secondary school in Mpika in my 8th grade… Grade 9 I went to Ibenga Girls secondary school in masaiti luanshya… And from 10 to 12th grade I was at Delca Palms in Kapiri…. So I've been in boarding schools from grade 8 to 9…. I have 4 elder sisters and 1 younger brother… I live with both my mother and father…. I love to dance, cook ,and I'm very sport active… I also enjoy watching series, my favorite being "criminal minds", I love how intriguing it is… I'm currently in my second year at Mulungushi university hoping to attain a degree in international relations…"
Phil
*How would you describe your professional interests?
Mwangala
"I am a student, and part time model…"
Phil
*What's your background in modeling? When and why did you get started? Was it for the glamour? The money? Pure kicks?
Mwangala
"I started in 2010 when I took part in "Cynthia Kanema's quest for Zambia's supermodel", were I managed to make it to top 16…. Before that, I really never even dreamnt about modeling, its something I stumbled on to give a try, and since then, I have just loved it…… I've gone on to get the title of Miss CBU 2011 when I was there for a year, I also made it as one of the 20 finalists in Pure Managements Model Search run by R&G events last year (2013), and I've done a few modeling jobs along side."
Phil
*Who are some of your favorite models and designers, and why?
Mwangala
"For Designers, I Love Estelle Mantel Designs by Victoria and Esther,there outfits are really amazing and creative, they have a touch of elegance which I feel I am all about and the fact that they are Zambian makes me proud the more…. I also like Elikem, The Tailor Designs, I am a huge fan of african prints and I love how he turns african prints into modern beauty…. My favourite models would include Alek Wek! I just love an african model that's makes it biggggggg! Same applies to Fatima Siad! Especially that she made it on the show of America's next top model…. I also like Oluchi for obvious reasons and Tyra Banks too!
Phil
*Where do you generally shop?
Mwangala
"I shop anywhere I find something I like I don't have one specific place…."
Phil
*Out of all of the photos the photographer took of you, which is your favorite and why?
Mwangala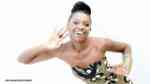 "I love it because of my outfit! My smile! I think everything just looks beautiful about it!"
Phil
*What do you dislike about modeling?
Mwangala
"I dislike how people choose to perceive modeling as an excuse for illiterate people to expose their bodies….."
Phil
*What does fashion mean to you?
Mwangala
"Fashion to me is a mixture of clothes shoes hair makeup to look good enough…. That's the part where people say "You have or don't have a good fashion sense"…"
Phil
*What are some things you dislike/hate about the fashion industry?
*Do you do your own hair and make-up?
Mwangala
"I don't like how most fashion trends are advertised on slim ladies, makes it seem like it only for small bodied ladies…
I always do my own make up…. So far, I've always done it, and I like how I do it…."
Phil
*Describe the atmosphere when you're on a shoot. Do you play music? Do you talk with the photographer between shots?
Mwangala
"I'm always taking to the photographer…. I'm more relaxed that way, I don't like too much silence it either means you're doing the right thing or everything is just wrong…"
Phil
*Do you have any affiliations with Macky 2?
Mwangala
"I met Macky2 when he hired me to feature in his "No more love" video ft k'millian, and we have continued to be good friends since then…"
Phil
*What advice do you have for other aspiring models?
*Anything else you'd like to say?
Mwangala
Aspiring models _ be humble, be confident and be yourself…every other personality is taken….
Right now I can't think of anything to add on…..
Phil
*Had A Wonderful Time With You Mwangala! God Bless and Keep Up The Good Work
Mwangala
"Thankyou, thankyou very much… God bless you too"